| Previous Page | | Official A. Minghi Site | | With Amedeo in the Classroom | Biography |
| Go home |E-Mail: minghiusa@aol.com | News | Amedeo's Music | Photos |
AMEDEO MINGHI FAN CLUB U.S.A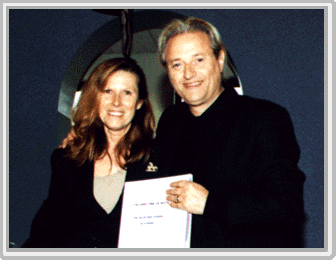 (Mariagrazia Byrnes, President and Founder)
CLUB'S MOTTO: "Cantare è d'amore!"
If you appreciate Amedeo Minghi's music,
write to us. Your comments are most welcome!
If you wish, we could also publish them on our web site
minghiusa@aol.com
---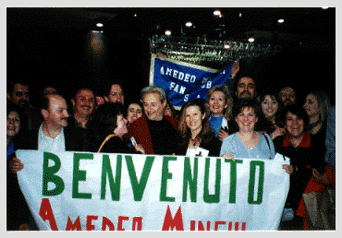 "Concert in Atlantic City - April 29, 2000"
OBJECTIVES
Return to top of the page
---
AMEDEO'S PAST VISIT TO THE U.S.
April 22 - April 29, 2000
A memorable experience for all who had the pleasure to meet him in person and to attend his concert in Atlantic City. Click here for full details |Past Visits to the U.S.|


November 1st, 2001

On Thursday, November 1st, 2001, Amedeo Minghi performed in a benefit concert at the Manhattan Center Studios, in New York City. The concert, entitled "Rinascere Insieme", featured three other Italian artists and was organized by Radio Italia. It was sponsored by the Italian Region of Lombardy and various Italian organizations as a gesture of friendhip and solidarity with the people of New York City, after the tragic events of September 11th, and as an expression of solidarity with the Italian-American community of New York City. Click here for full details |Past Visits to the U.S.|
March 15, 2006

On March 15, 2006, many members of our Fan Club had the privilege to spend an evening with Amedeo Minghi at our residence where we held a special welcoming reception in his honor. Click here for full details:|Past Visits to the U.S.|
October 9, 2006

Amedeo Minghi was invited by the Columbus Citizen Foundation to perform on the red carpet at the NEW YORK FIFTH AVENUE COLUMBUS DAY PARADE on Monday, October 9, 2006. He was also invited to attend other festive events that preceeded the parade, such as the Sponsor and Media Party and Concert at Grand Central Station, on October 6th, and the Columbus Weekend Gala Dinner at the Waldorf Astoria Grand Ballroom, on October 7th. Wherever he went, Amedeo was given a very warm reception and was followed with great interest by the media who photographed him and interviewed him on different occasions. Click here for full details: |Past Visits to the U.S.|
Return to top of the page
| Previous Page |
| Official A. Minghi Site | | With Amedeo in the Classroom | Biography |
| Go home | E - Mail | Links | News | Amedeo's Music | Photos |
- Site last updated December, 2019. - Contents of this site should not be used without permission. -